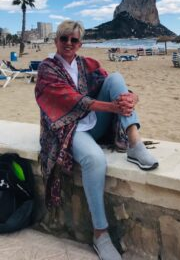 Frida was born in Keflavík Iceland. She was with Baðstofan which is an ensemble of art connoisseurs from 1986-1999. She attended classes in watercolor painting in the Art school of Kópavogur, model and 3 dimensional drawing at the Art and Craft school of Iceland.
In 1999 Frida was accepted into the Academy of Fine Kunst in Tongeren Belgium where she studied pictorial art until fall 2001. She has participated in co exhibition in Iceland, Belgium and in New York and solo exhibition ones a year since 2002.
In 2011 Frida was nominated by Alpher Mehmet former British Ambassador in Iceland to the Sovereign European Art Price. 300 artist all over Europe were nominated, 30 made it through the final cut and they're work sent to Istanbul Turkey for exhibition and then sold at a Gala auction. Fríða's work Friends was one of them.
Fríða works with concrete blend on canvas and in some of her painting she uses Icelandic fish skin. Frida loves people and she tried to express that feeling in her painting. People in love,  people in harmony ,showing affection by holding hands or embracing one another.
27. 100 x 100 cm
ACRILYC ON CANVAS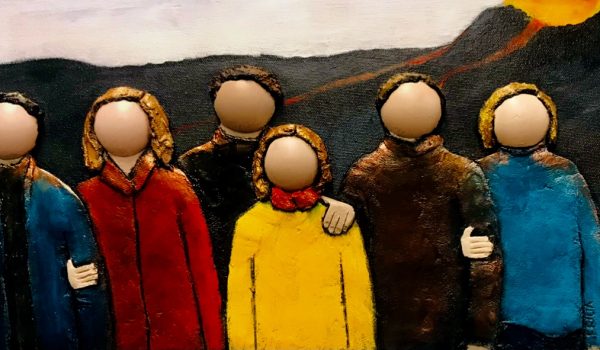 SOLD - 26. 25 x 50 cm
CONCRET ON CANVAS
25. 30 x 40 cm
CONCRET ON CANVAS
SOLD - 22. 50 x 50 cm
CONCRET ON CANVAS
23. 50 x 50 cm
CONCRET ON CANVAS
SOLD - 20. 100 x 100 cm
ACRYLIC ON CANVAS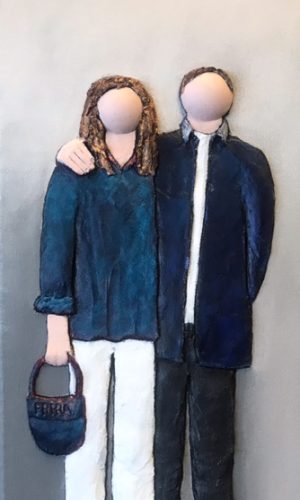 1. 50 x 25 cm
CONCRET ON CANVAS
3. 90x70 cm
CONCRET ON CANVAS
4. 50x70 cm
CONCRET ON CANVAS
5. 90x70 cm
CONCRET ON CANVAS
6. 100x100 cm
AKRIL Á STRIGA/acrylic on canvas

SOLD - 7. 60x60 cm
CONCRET ON CANVAS
8. 60x50 cm
CONCRET ON CANVAS
9. 90x60 cm
CONCRET ON CANVAS
SOLD - 10. 90x70 cm
CONCRET ON CANVAS
11. 90x60 cm
CONCRET ON CANVAS
SOLD - 12. 100x100 cm
AKRIL Á STRIGA/acrylic on canvas
17. 90x60 cm
CONCRET ON CANVAS
SOLD - 19. 50x20 cm
CONCRET ON CANVAS